Christian Communication
As a Spiritual Work
By Dr. Jariya Sornmayura
Director, Voice of Peace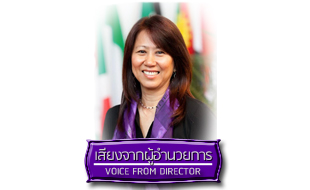 God is by nature a communicator. At the time of creation, He spoke and things happened. In the Old Testament, we see God communicating through acts and words, through the universe He created, and through history. In the New Testament, God reveals himself fully through His son.

As Christian communicators, we need to learn how to communicate the concept of the living God to people in a changeable and confused world. Evangelism is the activity involved in bringing the gospel of jesus Christ to people who have not yet heard or do not yet follow Christ. Evangelism involves communication.

The Bible is a narrative of God's communication to mankind. The message of Christ should be communicated to all people in the world, and the media can play very important roles in this task. Christian workers need much help in making media-based ministries effective. There are so many people who have not yet heard the gospel in a meaningful way, so an effective communication is needed and challenging.

Christian Communication is a spiritual work, and ultimately all results will depend on the Holy Spirit. The implications of this for Christian communicators are to commit ourselves through prayer to the guidance of the Holy Spirit. This means Christ in us and working through us. Christ is not only using us and speaking through us as his ambassadors (2 Cor. 5:20), but He is also working through the mental capacities He has given us to develop plans and carry out communicational activities. In the language of communication, Christ is encoded in our lives, making it essential that we, the communicators, are part of the message we communicate.

For Christian communicators, "faith" is more than dreams or wishful thinking. It is a conviction based on the calling of Christ. The Christian communicator will, therefore, continue ministry even through things seem to be impossible. This means that "Faith gives hope"

If we are concerned about the effectiveness of Christian communication, the following three perspectives need to be considered: God's purposes, the results seen by the Christian communicator, and the reflections of the audience.

As we submit our lives and ministries to the guidance of the Holy Spirit, we become ambassadors of Christ.

Voice of peace is a media ministry that communicates God's gospel to people.

Many people have come to know Jesus Christ. Others have been blessed and have experienced spiritual growth through the radio and television programs and other media. May the Lord continue to bless this ministry abundantly.